Starz network premiered it's much anticipated Spartacus prequel series, Gods of the Arena this past Friday.  It was so worth the wait.  With Dexter: Season 5 in the books, this might be my favorite show on television at the moment.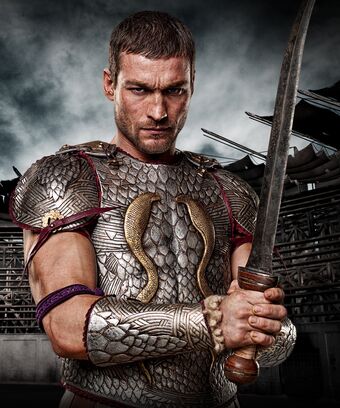 When it was announced last year that Spartacus star Andy Whitfield was struggling with a recurrence of Hodgkins Lymphoma and had to leave the show, the future of Spartacus was in limbo for weeks.  Deciding that it was too good of a show, the studio decided to go the route of recasting the role as opposed to canceling.  They announced last week that Australian Liam McIntyre would assume the mantle of Spartacus.  Although McIntyre is similar in looks to Whitfield, it remains to be seen if he has the chops to pick up where Whitfield left off.  For many viewers, Whitfield will always be Spartacus.  He was that good.  Much in the same vein as Michael Gambon assumes the role of Dumbledore in the Harry Potter films.  It was an impossible task to replace the awesome Richard Harris, and Gambon's Dumbledore still feels a bit off even after five films, but the strength of the other characters in the story helps to alleviate any frustrations that might linger.  Let's hope this continues to be the case with Spartacus.
God's of the Arena is a six-episode prequel to the first season of Spartacus, Blood, and Sand.  It takes place a few years prior to the events of Blood and Sand before the House of Batiatus assumes it's placed as the premiere ludus (gladiator training school) in Capua.  It is fun to see some of these characters a bit younger and to see how they came to be at the place they end up in Blood and Sand.

Batiatus (John Hannah) is the same conniving megalomaniac as he is later in life.  He is preoccupied with his status and is willing to sell out anyone to achieve prominence.  Lucy Lawless plays his wife Lucretia, who is also willing to do what is necessary to maintain her standing in society.  Treachery and betrayal are at the center of this world.
Even though this prequel seems to be mostly revolving around the rise of prestige for the House of Batiatus, there are still many other characters in the middle of this story arc.  Gannicus (Dustin Clare) is the reigning champion of the Batiatus stable of gladiators.  He comes off as a showboater with a big ego.  Something tells me he will meet a gruesome end before it is all said and done with.  We get to see Crixus (Manu Bennett), a future champion, as he is brought into the Batiatus fold.  And we also get to see Oenomaus (Peter Mensah), who would later become Doctore (trainer of the gladiators) of the House of Batiatus.

This first episode was stellar.  It saddens me that only six episodes were filmed for this prequel, but at least it is something while we wait for season two to get rolling.  The cool thing about the series being on Starz is the agreement Starz has with Netflix.  The live airing is on Friday night each week for those lucky enough to have Starz, but if you have Netflix streaming, the show is available shorty after midnight.  Netflix has also made season one available on their streaming service as well.

If the lore of the gladiators is something that interests you, then the Spartacus saga is essential.  There has never been a more accurate portrayal of the era than this, and the story will keep you invested.  Give it a couple of episodes to catch it's footing.  After that, just enjoy the ride.